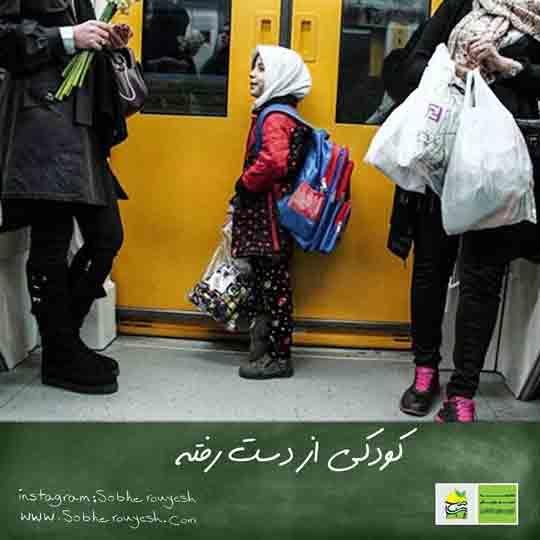 Today, I want to tell you the story of one of our most oppressed daughters, who, despite studying and peddling in the subway, at the age of 10, has the task of taking care of her disabled brother at home. Mahboubeh has another 13-year-old brother who is an apprentice in a sewing workshop.
Her parents are separated and she lives with a mother who suffers from nervous disorders due to many mental problems and constantly beats them.

The last time his father was released from prison, he went to his family and claimed that he wanted to take care of Mahboubeh. The story was something else, and in fact his father wanted to sell his beloved cousin to his cousin for a fee.
Due to her mother's strong opposition, Mahboubeh's father stood in front of the school in the afternoon so that he could reach his goal. Those days were very hard for our daughter because every time she saw her father, for fear of her color, the wall turned white like plaster; Finally, by following the school colleague, we were able to control this issue to a large extent.

But the story of Mahboubeh's suffering is always there, and if she can't earn 20,000 tomans a day, she will be beaten and punished by her mother. But our daughter is so oppressed that every time she is beaten, she tells us that it must have been my fault and mistake that I was punished.
Mahboubeh, due to a lot of work and all the mental problems that have occurred to her, her eyes have become weak and she has a heart condition, which we are constantly being treated by our office team.
Mahboubeh comes to school every afternoon, immediately after working with her chewing gum plastic and tissue paper, to get to class on time. We know that Mahboubeh loves school despite all the difficulties she has. This is the house of hope, Mahboubeh. We will not give up.